My New Companions: Speakers for Mobile Phone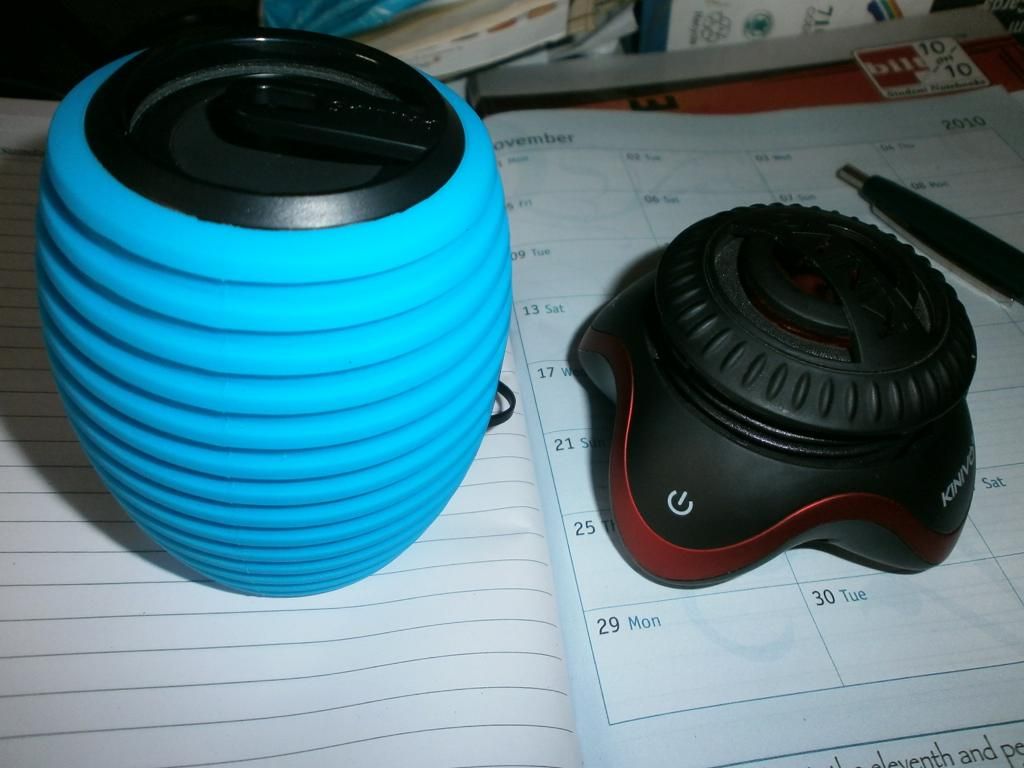 If there is one thing that has remained constant with me from a young age, it's my love for music and songs! I just love all those Hindi and Tamil movie songs I've been listening from a very young age. Earlier, it was recorded cassettes. Then CDs. Now it's MP3.
Even though I have many songs in my laptop, I listen to them only once in a week – on Sundays. That's because it's difficult to listen to songs in my headphone for a long time. Don't know why, I've never been a fan of headphones, even though the audio quality is the best with them.
Cell phones do have speakers. My Motorola Rokr had awesome speakers, but I never got quality music from any other phone I owned after that. I was (am) too lazy to set up my external Alltec Lansing Amplifier/2.1 Speakers with my laptop for a short music-hearing session. Moto Rokr worked even with these speakers, but no other phone works with it.
But once I got the Kinivo speaker (photo, right side), I have started listening to songs frequently. When I decide to take a break from my laptop, I take my phone, connect the speaker (battery-powered) and that's it – I can start listening to songs instantly!
OK, the quality/volume is not as good as my Alltec Lansing, but it's good enough and keeps glued to music. That's what matters. For some reason – maybe I was not sure about the quality – I never considered buying a personal mobile speaker earlier. The speaker on the left is Phillips and the one on the right is Kinivo. Phillips is louder (and good), but Kinivo is better for softer songs.
I am choosy about songs I listen to. So, I don't listen to the radio much. I hate the constant RJ chattering and the ads. Facebook is good for discovering new songs – I try to listen to recommended songs by friends. Songs that play on TV or the ones that accidentally reach my ears is another source of discovery.
But I miss a TV program like 'Superhit Muqabla' that ran for many years in DD2. That music countdown program was the best source to discover great songs. Nowadays, I am not sure if there is a good TV program like that, or if there is an alternative Online. Are you aware of any?
I am interested to know how you discover new/good songs.
Destination Infinity
Please note: These are personal speakers for your own listening, not room/hall speakers. You can connect it to mobile, tablet, or laptop and keep it next to your pillow or table.
I am Rajesh K, the author of this blog. While this blog is my hobby, I am a Freelance Video Editor by Profession. If you want to make Videos for Business or Special Occasions, do visit my other website WOWSUPER.NET to see the portfolio and get in touch.